2020-2021 SYP Water Talks Webinar Series
The Student and Young Professional (SYP) affiliate of the CWRA is please to present their webinar series: Water Talks. 
Upcoming webinars
February 24, 2020 from 1-2PM ET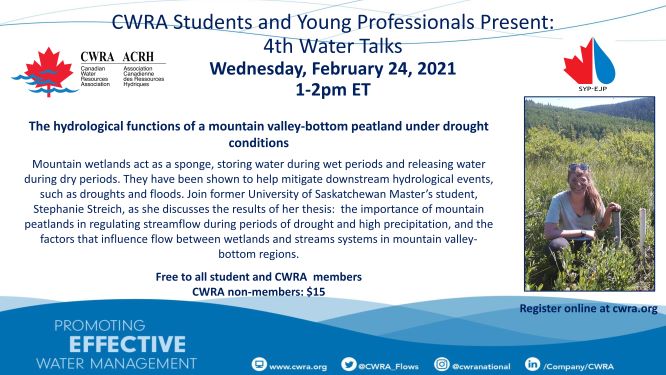 About the presenter
Stephanie Streich recently graduated from the University of Saskatchewan with a Master's of Science in hydrology, studying peatlands in the Canadian Rockies. She also holds a BSc and BEd from the University of Alberta. Her passion for hydrological sciences started during her participation in the Juneau Icefield Research Program, a six-week earth science field course across the Juneau Icefield, Alaska. She is currently the Operations Coordinator for the CWRA.
Webinar price details:
CWRA members: free
All students: free
CWRA non-members: $15
Please note that this event has a two-step registration. After checking out through the payment website, you will receive a link to finish your registration for the webinar with your payment confirmation email. You must sign up through the confirmation email link to receive attendance information for the event.
Register for the February webinar
_________________________________________________________________________________________________________________
Past webinars
January 27, 2021 from 1-2PM ET

About the presenter:
Simon Deslauriers joined Lasalle | NHC in 2015 and has since developed an expertise in the fields of hydrological studies and urban networks. He has experience with multiple modelling software such as PCSWMM, Mike21 and HEC-RAS (1-D and 2-D). M. Deslauriers has been involved in various projects involving the development of hydrological models, the analysis of urban networks and river networks.
October 28, 2020 from 1-2PM ET
Climate change: current issues for water resources engineers
presented by Jean-Luc Martel, Research Associate and Lecturer at École de technologie supérieure (ÉTS) in Montreal.
About this webinar:
Traditionally, infrastructure design assumes that the climate is stationary. Given the broad scientific consensus that global warming is influenced by humans, it is clear that these traditional designs are no longer valid and that our design criteria must be adapted to account for climate change. The purpose of this presentation is to provide water resources engineers with a picture of future climate projections across Canada and the expected impacts of climate change on all of our infrastructure
About the presenter:
Jean-Luc holds a bachelor's degree in construction engineering and a Ph.D. in hydrology and climate change from the École de technologie supérieure (ÉTS). First as a project engineer in a consulting firm specialized in water resources and now as a research associate at ÉTS, he constantly strives to bridge the gap between the world of research and the industry. Jean-Luc has seven years of experience in hydrological and hydraulic modelling, programming, geomatics, statistical analyses, and has studied the impacts of climate change. He has published scientific papers and presented at several international conferences on these subjects. He has also presented in nearly twenty Canadian cities on current climate change issues for civil engineering as part of the 2019-2020 National Lecture Tour of the Canadian Society for Civil Engineering (CSCE). Jean-Luc also serves on several Boards of Directors and committees in addition to teaching fluid mechanics and water resources to ÉTS undergraduate students.
Find Webinar Slides Here
November 25, 2020 from 1-2PM ET
Green infrastructure for water balance & water treatment
presented by Sylvie Spraakman, PhD Candidate at the University of Toronto.
About this webinar:
Green infrastructure is being used widely across Canada to meet water quality objectives and return our urban areas to a more natural hydrology. Are they performing as we expected? And do they continue to function over the long term? This presentation will go in-depth into what we know about how green infrastructure actually achieves these aims, by presenting research on mature systems and their water treatment, and by showing an overview of the full water balance, including the contribution of evapotranspiration. 
About the presenter:
Sylvie Spraakman is a professional engineer and PhD Candidate in Civil and Mineral Engineering at the University of Toronto. She has 5 years of experience in consulting at GHD Ltd., where she specialized in surface water impacts and stormwater management design. Her PhD research focuses on the long term performance of bioretention. She is an active volunteer and board member at SWE Toronto, IWA Young Water Professionals Canada, and CWRA SYP. 
Register for the November webinar