Project WET Instructional Resources
Prince Edward Island Grade 6 Science Curriculum – Project WET Curriculum and Activity Guide 2.0 Cross-Reference
Cross-Reference Guide for PEI Grade 6 Science Curriculum for: Project WET Curriculum and Activity Guide 2.0
Prince Edward Island Grade 7 Science Curriculum – Project WET Curriculum and Activity Guide 2.0 Cross-Reference
Cross-Reference Guide for PEI Grade 7 Science Curriculum for: Project WET Curriculum and Activity Guide 2.0
Prince Edward Island Grade 8 Science Curriculum – Project WET Curriculum and Activity Guide 2.0 Cross-Reference
Cross-Reference Guide for PEI Grade 8 Science Curriculum for: Project WET Curriculum and Activity Guide 2.0
Prince Edward Island Grade 9 Science Curriculum – Project WET Curriculum and Activity Guide 2.0 Cross-Reference
Cross-Reference Guide for PEI Grade 9 Science Curriculum for: Project WET Curriculum and Activity Guide 2.0
Coming Soon
Prince Edward Island Grade 10 Science Curriculum – Project WET Curriculum and Activity Guide 2.0 Cross-Reference
Cross-Reference Guide for PEI Grade 10 Science Curriculum for: Project WET Curriculum and Activity Guide 2.0
Coming Soon
Cross-Reference for Nunavut Experiential Science Curriculum for Project WET 2.0 and Climate, Water and Resilience
Cross-Reference Guide for Nunavut Experiential Science 10, 20 and 30 Curriculum for Project WET 2.0 and Climate, Water and Resilience
British Columbia and Yukon Territory
Cross-Reference for BC and Yukon Science Curriculum for Climate, Water and Resilience
Cross-Reference Guide for BC and Yukon Science Curriculum for: Project WET Climate, Water and Resilience
Cross-Reference Guide for Manitoba Science Curriculum for: Project WET Curriculum and Activity Guide 2.0
Cross-Reference for Manitoba Curriculum for Climate, Water and Resilience
Cross-Reference Guide for Manitoba Science Curriculum for: Project WET Climate, Water and Resilience
Topic A: Exploring Liquids – Science Inquiry Emphasis
Topic E: Wetland Ecosystems – Science Inquiry Emphasis
Unit E: Freshwater and Saltwater Systems – Social and Environmental Emphasis
Nova Scotia Science Curriculum and Climate, Water and Resilience Curriculum Connections
Curriculum Connections for Climate, Water and Resilience
Canadian Backgrounders and Student Sheets
Water rights are a system through which water resources are allocated for various purposes. As water demand increases, tensions can arise between the different users, particularly in regions with limited water resources.
Thunderstorms often bring intense rainfall and can cause sever flooding. The amount of precipitation released during a thunderstorm are monitored through a network of weather stations.
Wetlands occupy about 14 % of Canada's land surface, an area slightly larger than the province of Ontario. Most of these wetlands are peatlands located in boreal and sub-arctic regions in northern Canada.
 Climate and Resilience Education Project WET 2.0
Activities Supporting Climate and Resilience Education in Project WET 2.0
Curriculum Guide
Activities Supporting Climate and Resilience Education in Project WET 2.0
Curriculum- Table Format
 Physical Distancing Documents and Fall and Winter Activities
Project WET Curriculum and Activity Guide 2.0
Fall and Winter Activities
with Physical Distancing Options
Project WET Leadership Workshop, Yellowknife, Northwest Territories, Canada. July 10 – 12, 2018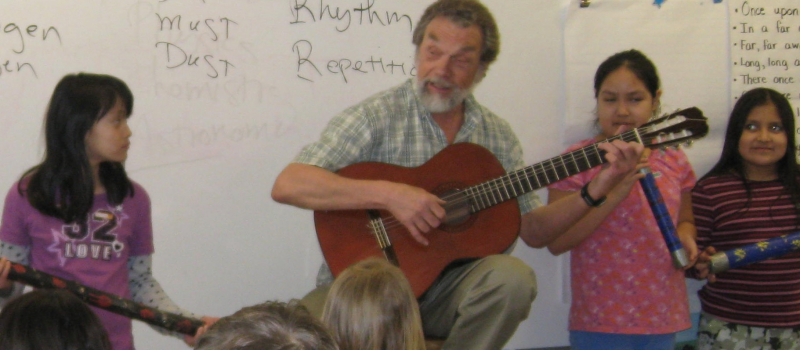 Dr. Don Waite is an environmental scientist who writes and sings songs about the environment. These songs cover many serious topics including water, air pollution, the five R's (recycling etc.), the greenhouse effect, and much more, but in a humorous fashion that encourages group participation and laughter. To learn more about Don Waite.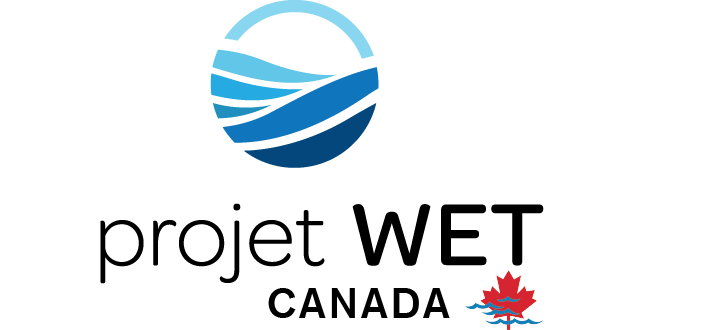 Projet WET Canada est le programme officiel d'éducation sur l'eau pour les jeunes de l'Association Canadienne des Ressources Hydriques (ACRH). L'ACRH chapeaute le programme Projet WET au Canada depuis 1996 à travers un contrat avec la Fondation (Internationale) Project WET.
Le projet WET Canada est un programme éducatif sur l'eau qui est amusant, pratique et basé sur l'enquête, approprié pour les élèves de la maternelle à la 12e année. Il est conçu pour être utilisé par les éducateurs formels et non formels pour enrichir les programmes provinciaux et territoriaux existants en sciences, en éducation environnementale et de plein air, en études sociales, en arts du langage, en mathématiques, en santé et bien-être et en éducation aux choix de carrière. Il est adapté pour des environnements d'apprentissage tant intérieurs et qu'extérieurs. Les éducateurs et éducatrices  obtiennent le guide d'activités de base du projet WET dans le cadre d'un atelier de certification de développement professionnel dispensé par des animateurs et animatrices pleinement qualifiés du projet WET. Des ateliers sont disponibles partout au Canada.
Projet WET Canada Ateliers de Développement Professionnel pour les Éducateurs / Éducatrices
Projet WET, Module 1 est le guide des éducateurs et éducatrices de langue françaisecontenant 21 plans complets de leçons tirés du Guide anglais de base du projet WET, pour la maternelle à la 8ième année.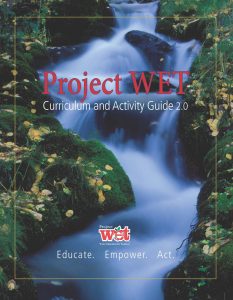 Project WET 2.0 est le guide de base des éducateurs et éducatrices. C'est un volume de 592 pages, contenant 65 plans de leçons à plusieurs niveaux et testés sur le terrain et appuyant le curriculum. Plusieurs ressources de soutien sont également téléchargeables gratuitement sur les pages Web du Projet WET Canada. Ce guide est en anglais.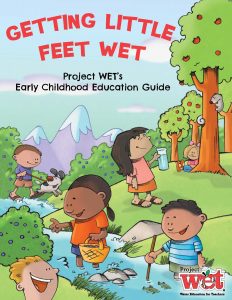 Getting Little Feet Wet est le guide des éducateurs et éducatrices de la petite enfance (de 3 à 8 ans). Il contient 11 plans de leçons qui complètent les 16 activités du guide Projet WET 2.0 pour la pré-maternelle – 2e année. Les activités sont adaptées au développement des jeunes apprenants et comportent des suggestions pour les enfants de 3 à 5 ans et aussi pour les enfants de 6 à 8 ans. Ce guide est en anglais.
CONTACTEZ PROJET WET CANADA
Pour organiser un atelier de développement professionnel Projet Wet ou en savoir davantage sur le projet, veuillez nous envoyer un courriel en cliquant sur un des boutons ci-dessous.
Pour plus d'informations ou pour en savoir plus sur un atelier de certification dans votre région, référez-vous à la carte du Canada sur notre page d'accueil en français. Survolez votre province ou territoire pour trouver les informations au sujet de votre coordonnateur ou coordinatrice régional(e).
PROJET WET CANADA aimerait remercier nos principaux donateurs:
éQUIPE DE GESTION DE PROJET WET CANADA
Russell Boals, Directeur
Ed Dean, Membre d'Équipe
Alida Thiombiano, Membre d'Équipe
L'Organisme de bassin versant de la Yamaska (OBV Yamaska), situé dans le sud du Québec, est un organisme de bienfaisance qui vise à améliorer la qualité et la gestion de l'eau sur son territoire de 4843 km². Parmi ses mandats, l'OBV Yamaska rencontre les élèves de la pré-maternelle jusqu'à la 5e secondaire pour leur parler de l'eau, des écosystèmes aquatiques, des enjeux relatifs à l'eau et des changements climatiques.
Cette capsule vidéo est un récapitulatif des activités éducatives animées par l'OBV Yamaska entre avril 2021 et mars 2022.
Vous avez des questions ? Contactez la coordonnatrice Lou Paris à ProjetWET_QC@outlook.com