Water News is moving online!
Check our our most recent issue on the new platform and stay tuned for the Spring issue.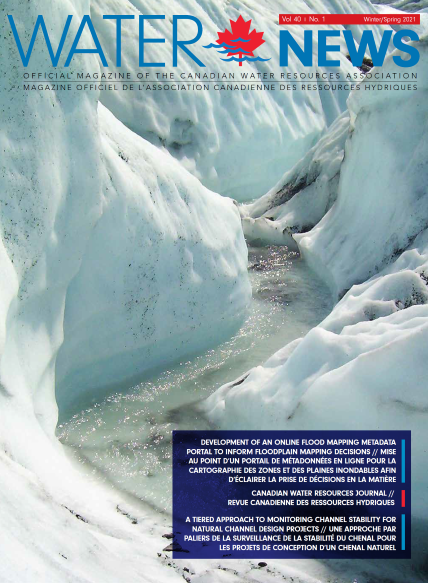 Water News
Water News was established in 1982. Water News contains items of general interest and reports of national and branch activities, as well as international water resource information of interest to Canadians. Each issue contains a Water News Profile and a Technical Bureau article.
Water News profiles are articles about water management projects, programs, or organizations in Canada and occasionally abroad. Technical Bureau articles are special technical presentations that provide a focal point for discussion and debate of water resource issues within CWRA and beyond.
Become a member to receive access to the most recent issue and archive of Water News!

For authors
Letters to the Editor, brief articles, conference announcements and brief conference or trip reports are always welcome.
Ideas for Feature Articles, Profile Articles and Technical Bureau Supplements should be discussed with the Editor prior to submission.
Article deadlines are as follows: November 15, March 15, and July 15 for publication in January/February, May/June, and September/October.
If any material used in the article is protected by copyright, the author must obtain permission to use the material from the holder of the copyright.  
For more information, contact the Water News Editor.
A Canadian Environmental Chronicle (1954-2015)
Author: James. P. Bruce.  "This is a book that, by showing how it was done, can recharge Canada's environmental scientists and managers to refresh their pursuit of a sustainable planet…."- John Pomeroy, Ph. D., Canada Research Chair in Water Resources and Climate Change. Price $19.00C CAD.
Putting Prediction in Ungauged Basins into Practice
Authors: J.W. Pomeroy, C. Spence, and P.H. Whitfield. A collection of Conference papers and proceedings.  The workshop was supported by IAHS and the Canadian Society for Hydrological Sciences and organized by the Centre for Hydrology, University of Saskatchewan. Price $21.99 CAD.
Common Sense and Other Heresies: Selected Papers on Hydrology and Water Resources Engineering
Author: Vít Klemeš. A collection of papers by Vít Klemeš (1932–2010) that provide an insight to the science and practice of hydrology. Reading Klemeš's work continues to be a refreshing, enlightening and inspiring experience. Price $50.00 CAD.
Book Orders
All book orders are subject to standard shipping charges:
Canada Orders: $6.00 CAD
US Orders: $10.00 CAD
International Orders: $18.00 CAD