Sponsorship and Exhibitor Opportunities
The conference is expecting over 100 potential delegates consisting of water policy experts, academics studying ground-breaking research, water-related science practitioners, and water-related infrastructure engineers. To ensure that this conference is a success we need support through sponsorships and/or exhibitor booth purchases.  The conference will be an excellent opportunity to showcase your company and the services you provide to to the water community in Alberta and beyond.
Sponsors
The following benefits will be offered for all sponsorship levels:
Identification as a sponsor in the Program and Proceedings
Visual and verbal recognition of your sponsorship during the conference
Identification in the Preliminary Program (if confirmed before deadline)
Recognition on the Conference Webpage
BONUS:  For Gold sponsorships of $5,000 or greater:
One booth space
Two full registrations
BONUS:  For Platinum sponsorships of $10,000 or greater:
One booth space
Two full registrations
Two sponsored student registrations (with recognition)
Exhibitors
There will be room for approximately 8 display booths in the main conference area.
Each booth space is $750. Each booth purchase includes one full registration.
SPONSORSHIP RECOGNITION LEVELS
Online registration for sponsors and exhibitors will be available soon.
Email Sponsorship chair (button below) to reserve your spot now.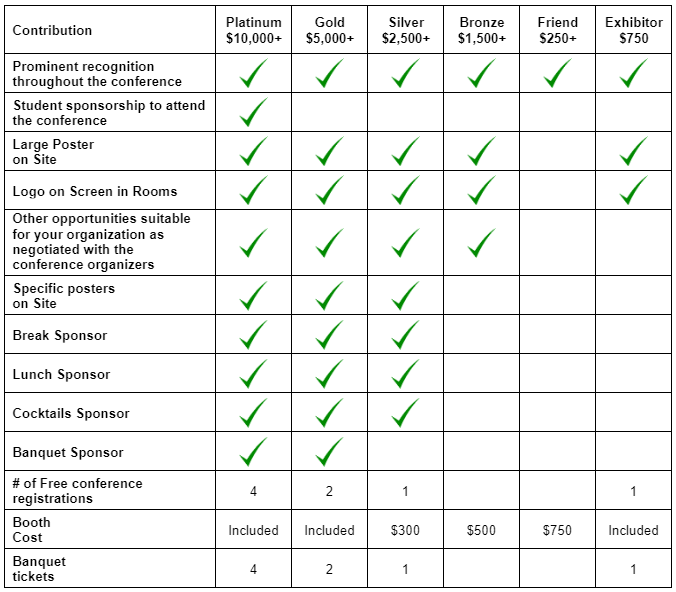 Sign Up For Our Alberta Branch Newsletter!
We send out updates in a timely manner for the various events we hold. Our event dates change from year to year, and depend on our responsibilities to our national CWRA community as well as current topics of interest to the Alberta water resources community. We have previously hosted provincial and national conferences, webinars, forums, SYP (Students and Young Professionals) Blue Drinks, river clean-ups, BBQs, and in-person meetings for the Alberta Branch Directors. If you would like to add your email address to our mailing list, please click on the link below.
We look forward to meeting you soon!