Registration Rates
Members Rates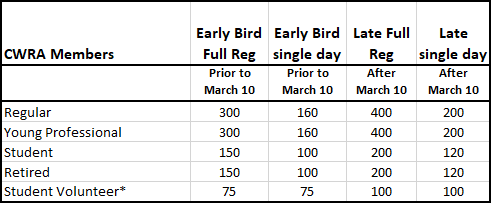 Non Members Rates
Note that you must be a CWRA Member to attend the conference.
Member Fees in last column in the table below are added to the registration category on the registration process
Non Member Regular Early Full Conference
$320 Conference Fee  + $120 Membership Fee = $440 Total
Non Member Young Professional Late Single Day
$220 Conference Fee + $60 Membership Fee = $280 Total

Student Volunteers
There is a special registration process for Student Volunteers.  Spaces are limited, if you are interested in registering as a student volunteer, email AB.registration@cwra.org.   Student volunteers will work shifts at the conference helping with the sessions,  supporting the registration desk, event setup and takedown etc.
General registration questions
Registration Details
If the organizers cancel this event, a full refund will be provided.
A refund of the conference registration fee less a 10% administration fee is available until March 10.   No refund of any included membership fees will be possible.
After March 10, no refunds will be possible.
You may transfer your registration to another person by contacting us.  Included Memberships can not be transferred after they are created.
All non-member registrations include a membership in CWRA. The portion of registration fees that go toward these memberships are non-refundable.
Student Membership in CWRA is free. To attend this conference, students must register for membership (click here) if they are not already members. Please note that students may also join CANCID, CSHS, and NASH for free.
Online registration for this event is now closed. In-person registration will be available for the event. Please email us if you have any questions about registration.

Sign Up For Our Alberta Branch Newsletter!
We send out updates in a timely manner for the various events we hold. Our event dates change from year to year, and depend on our responsibilities to our national CWRA community as well as current topics of interest to the Alberta water resources community. We have previously hosted provincial and national conferences, webinars, forums, SYP (Students and Young Professionals) Blue Drinks, river clean-ups, BBQs, and in-person meetings for the Alberta Branch Directors. If you would like to add your email address to our mailing list, please click on the link below.
We look forward to meeting you soon!